The following are examples of projects performed by Blue Tomorrow (click on the project title or picture for documents and a more detailed description).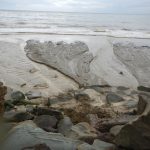 Blue Tomorrow is fiscally sponsored by the Rose Foundation for Communities and the Environment to conduct the Community Support Project. The Community Support Project allows community groups and other project sponsors to provide tax-deductible donations towards projects that address local community concerns. Click here to Donate.
Current Projects: Northern Ventura County Coastal Watersheds Risk Assessment of Transported Metals & Assessing the Accumulation of Stormwater Pollutants in Mussels on the Northern Ventura County Coast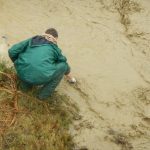 Northern Ventura County Coastal Watershed Project (NVCCWP)
Assessment of stromwater quality found high concentrations of arsenic and other heavy metals draining from oil fields on the northwestern Ventura County coast.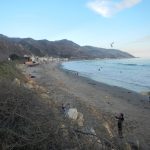 Public Outreach for the Northern Ventura County Coastal Watershed Project
Five presentations of the NVCCWP were delivered to the public and other stakeholder groups, with a grand total of about 150 people in attendance.
Santa Paula Creek Hydrology & Floodplain Research
Assessment of an upper section of the Santa Paula Creek located upstream of Santa Paula, CA, found a well pad to be located within county ordinance setback distances, and a proposed project at the site could increase the risk to water quality and endangered Steelhead, neither of which were evaluated in the 30 year old EIR being used for the project.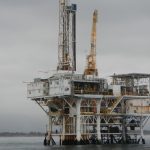 Review of the Programmatic Environmental Assessment of the Use of Well Stimulation Treatment on the Southern California Outer Continental Shelf (EA)
On behalf of the Environmental Defense Center a review was undertaken of an Environmental Assessment developed by the Bureau of Ocean Energy Management and other lead agencies to address the use of well stimulation methods (such as hydraulic fracturing and matrix acidizing) by oil platforms in the federal waters off Southern California.
Arvin, California has been rank by the United States EPA to have some of the highest levels of ozone pollution in the nation due industrial and automotive emissions and its location in the central valley of California. Blue Tomorrow is work with the Central California Environmental Justice Network (CCEJN) to deploy a network of air quality sensors that will help to understand the air quality in Arvin and any health risks.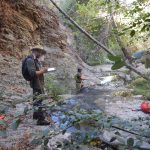 Stream Condition Inventory – Los Padres National Forest 
A thorough inventory of stream conditions and aquatic habitat within the southern Los Padres National Forest is being conducting during the summer and fall of 2016 and the spring of 2017. The project is being conducted to provide information to the Los Padres National Forest, and National Fish and Wildlife Foundation, on the condition of aquatic habitat utilized by the Endangered Southern California Steelhead, and to assess impacts to this habitat from recent wildfires.